What does an effective marketing program look like?
Building long-term customer relationships does not happen overnight. Really, it comes down to the result of collaboration and many different actions and decisions that need to be planned and implemented by, well, somebody. In this article, we break down our internal process that we go through for developing marketing strategies for each of our clients.

THE STRATEGIC MARKETING PROCESS
In some cases, organizations have the necessary resources – the talent, technology, time, and budget – to develop and execute an entire marketing strategy on their own. Often times though, it's more common to find most marketing programs involve internal components interfaced with cooperative efforts from specialized vendors: suppliers, wholesalers, retailers, and even local advertising agencies. It's also possible that customers are involved in determining or influencing certain parts of a marketing program, such as new product development and testing.
Regardless of the team or individuals who lead the project, we define the entire progression of analysis, decisions, and activities involved in planning, carrying out, and evaluating a strategic marketing project as the marketing management process.
The following is a diagram of the strategic marketing management process we follow: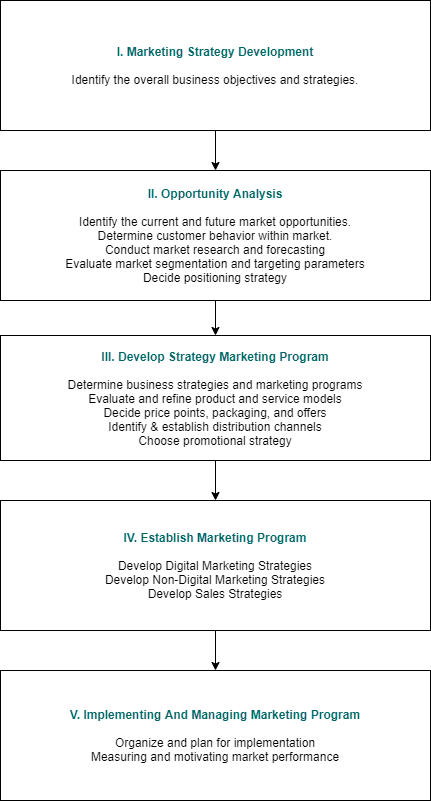 By following this technique to develop all of our strategic marketing campaigns for our clients, we've been able to lead a track record of successful performance. In this article, we take a detailed look at our marketing management process used to plan and execute strategic marketing programs.
A DATA-DRIVEN DECISION MAKING FOCUS
The framework of our marketing management process relies on a structured approach involving a data-driven decision-making focus. Developing and implementing an effective marketing program requires various interrelated details for what to do, when to do it, and how. These decisions are the major focus of developing creative and compelling marketing campaigns and can be applied to single products, across an entire product line, as well as to services.
I. MARKETING STRATEGY DEVELOPMENT
We begin by first identifying the business objectives and strategies that need to be taken into account by conducting a discovery call with prospective customers. The criteria determined at this step of the project is often the most important, as it serves as the organizational framework for marketing campaigns that are developed.
II. OPPORTUNITY ANALYSIS
The objective of conducting an opportunity analysis focuses on identifying the existing details about the prospective business, industry, and trends- this is defined as the 4 Cs of marketing: Company, Customers, Competitors and Context.
At this step, we focus on conducting a substantial amount of analysis of prospective client's customers, competitors, and the company itself before making suggestions concerning specific components of a marketing program. This reflects our perspective that successful marketing decisions depend on objectives, supported by a detailed and evidence-based understanding of the market and context of the industry environment.
It is important to acknowledge that an opportunity analysis is based on the time in which the evaluation occurred. It is also necessary to conduct ongoing analysis of market opportunities, simply because things change and the unexpected has a habit of occurring. If anything, the COVID-19 crisis has taught us a hard lesson that this is the case. Therefore, room for adjustments must always be considered to allow for new activities as a response to changes in consumer demand, the actions of a competitor, or shifting economic conditions. However, a comprehensive and ongoing analysis of the market environment allows businesses to make changes in an informed and logical way rather than relying on guess-work. 
The analysis that is necessary to formulate the structure for a good strategic marketing plan focused on four elements, or the 4Cs, that encompass the overall market environment that impacts the success of a strategy:
The Company's internal goals, resources, capabilities, constraints, culture, internal processes, and strategies.
The Context of the business environment like social, economic, and technology trends.
The Customer's wants, needs, and characteristics that influence purchasing decisions.
The Competitor's relative strengths and weaknesses within the business environment.
This evaluation also includes an examination of an organization's:
corporate strategy – the reflection of the mission and provides direction for decisions about what businesses it should pursue, how to allocate resources, and its growth goals.
competitive strategy – how a business plans to compete in the market
It's important to remember that one important role of a marketing agency is to monitor and analyze the customer's wants and needs, as well as the emerging opportunities and threats posed by competitors and trends in the market. Thus, many of the interconnected decisions about market segmentation, advertising channels, pricing, partnerships with suppliers, retailers, and other vendors reflect the corporate and competitive strategies and inform the development of an effective marketing strategy. By conducting thorough opportunity analysis, marketers are able to ensure that marketing strategies are realistic given a company's resources and capabilities, while also being consistent with the organization's corporate and competitive strategies. 
III. DEVELOPING STRATEGIC MARKETING PROGRAMS
While designing a new marketing program, there are two different operational paths that an organization can take:
PATH A: NEW PRODUCT-ENTRY
When formulating a strategic marketing program for a new product entering a market, there are three interrelated sets of criteria to consider:
There must be specific objectives to be accomplished within the target market, such as sales volume, market share, return-on-investment, or profitability goals. The objectives must also be consistent with corporate and competitive strategies, while also being specific enough to allow management to monitor and evaluate performance over time.
The overall strategy must appeal to the consumer while also being consistent with the company's capabilities and resources.
The tactical use of communications and distribution channels must be aligned and integrated with all other elements of the marketing program.
PATH B: SITUATIONAL POSITIONING
A marketing program for a product or service should not only reflect the demand and competitive environment within the target market but also take into consideration the specific objectives of the organization. It's important to remember that the product life cycle, market demand, and competitive conditions may change over time. Thus, marketing strategies must be developed to be appropriate and successful for different market conditions at different stages of the life cycle. 
IV. ESTABLISHING A MARKETING PROGRAM
The initial stage of developing a strategic marketing plan always begins with determining the objectives and overall goals of the campaign, ideally broken down for each target market segment. The objectives should be partially determined by corporate and business-level goals, strategies, and available resources. For example, Samsung's marketing strategy involves its product line, pricing, supply chain policies, advertising, and promotion efforts, but their marketing decisions are influenced by the company's competitive strategy of producing innovative lifestyle products sold at a premium price.
COMPONENTS OF A MARKETING STRATEGY
All of the tactical decisions that are made while designing a marketing strategy fall under four main categories that a business has the ability to control over time. Traditionally, these categories are defined as the 4 Ps:
Product – product lines, quality, features, style, options, packaging, guarantees, warranties, and customer services
Price – list price, discounts, allowances, credit terms, payment periods, and rental/leasing options
Promotion – advertising, salesforce, point-of-purchase materials, and publicity
Place – product or service development, distribution channels, supply chain, locations, availability, and inventory levels
Being that each element relies on each other, the decisions within this framework must be consistent and integrated with each other. When decisions are made surrounding these four components come together, it's generally referred to as the marketing mix.
V. IMPLEMENTATION AND CONTROL OF THE MARKETING STRATEGY
One critical element that determines the success of a marketing strategy is the organization's ability to effectively execute the plan. This ultimately depends on whether or not the strategy is aligned with the company's resources, organizational structure, operational capabilities, and the skills and expertise of its employees. Thus the importance of developing a plan that is tailored to the existing resources, competencies, and procedures of an organization, or that can aid in creating new structures and systems fit for the chosen strategy.
In addition, an ongoing analysis should be made to determine if the marketing strategy is meeting the objectives and if not, determining if the plan should be adjusted. Implementing a measurement and control process allows for quantitative and qualitative feedback that can be used for ongoing opportunity analysis.
How then do we measure the success of a marketing strategy? Depending on the goals and objectives, performance could be measured by impressions, reach, engagement, clicks, new followers, leads, or conversions. Share