15 Strategies to Market Your Pest Control Business
There are almost 30,000 pest control businesses in America and the entire industry of earns billions of dollars per year. Whether your business receives a contract or not could depend on your marketing campaign. Pest control marketing is effective when multiple strategies are implemented to help more people recognize a business's products and services. As a business owner, you know how valuable a successful marketing strategy can be. It builds brand awareness and ultimately increases sales and the bottom line. There are many ways to employ marketing to help your business grow.
1. Develop a Plan
Invariable, when something goes wrong it's usually because there wasn't a well thought-out plan set in place before hand. A thoroughly developed pest control marketing strategy changes according to the business's needs and is defined by the key metrics of success, budget and strategy. It encompasses identifying potential clients as well as competition, setting up a tracking infrastructure and establishing guidelines for monitoring the business.
A successful marketing plan for pest control businesses should include:
Market Research – It's important to determine the total potential market and how many customers you can reasonably expect. Instead of competing in national markets, pest control businesses need to concentrate specifically on local ones. The secret to a successful campaign is to customize your pest control marketing messaging and sales pitch to resonate with the buyer.

Competitor Research – What other pest control companies are you going up against? What kind of features and benefits do they offer that you don't? Determine who your primary rivals are and what they are doing to advertise their companies.

Customer Research – Do you know exactly who your customers are? Are they residential or commercial? Where are do they live? How educated are they? How do they spend their free time? The secret to successful pest control marketing is to customize your content and sales pitch resonates with your audience, and that requires understanding your customers.
To build a marketing strategy for pest treatment, you don't need to be an expert.
One institution that offers marketing plan templates for various business kinds is the U.S. Small Business Administration (SBA). You can also partner with a pest control advertising agency to help get the job done quicker.
Need Help Creating a Marketing Plan? Get This Free Resource for Implementing and Executing a Marketing Strategy – That Gets Results, Even During Tough Times!
2. Create an Awesome Website
What makes a website awesome? Certainly all relevant information is there, from the mission statement to services offered, pricing and links to social media. The website establishes a business's tone. It should neither be too busy nor too bare. It should lay out the details of the business in a way that leaves potential clients feeling as though they've come to the right place.
Take this example:
Do your techs dress professionally? What about your service vehicles? —are they attractive, branded representations of your company, or are they a jalopy you acquired at a fire sale?
There's an important reason why you want to show up professionally: first impressions count.
First impressions are important not only in the field but also online. People frequently interact with your pest control business for the first time through your website, and they will form an opinion of your organization based on the look, feel, and overall experience of using your site. In fact, more than 45 percent of users ranked the design of a website as the most important element just determining a company's trustworthiness, and visitors form an opinion about your website in less than a second after it loads.
To be able to run with the top pest control businesses, your website must have the following features:
Easy navigation
Contact information easily found
Value-enhancing messaging
High-quality, captivating visuals
Client portals
Blog with how-to posts and pest education
Search functionality
Demonstrate social proof (e.g. reviews and testimonials)
Social networking site links
Online scheduling
However, in order to appeal to the your primary market, it is also necessary that it meet the following requirements:
Fast – In less than 4 seconds of seeing your website, a visitor must visually see your website and be able to take an action (i.e. form, phone call button, etc.) that will convert them into a pest control lead. Nearly 50% of visitors will hit the "back" button if it takes longer.
Safe – As a result of recent data privacy scandals and consumer data intrusions, individuals are more concerned than ever about their online security. However, if for some reason your website isn't safe, you have a problem. Google has started identifying unsecure websites right there in the search box.
Mobile-friendly– Mobile devices are used for more than 65 percent of internet searches for terms like "pest control company" and "exterminator". Your website should be optimized for mobile use as a result. Customers shouldn't have to strain their eyes to read information, and navigating links shouldn't be challenging. Additionally, they should have no trouble getting in touch with you, setting up a meeting, and concluding, "that was easy."
3. Use Social Media
People use sites like TikTok, Twitter, Facebook and Instagram with great frequency. Gaining earned media through social represents a massive opportunity to a large pool of potential clients. Social media can help to earn reviews, raise awareness for new services or products, drive traffic to a business's homepage and run paid campaigns to energize a client base.
Social media marketing allows you to develop your brand and connect with the correct audience for a very low cost, and in some cases can increase your revenue by up to 20% or more if done correctly. Pest control companies can gain several benefits by implementing social media marketing and advertising, including:
Increase brand recognition and potential reach
Boost incoming traffic and appointments booked
Improved customer service capabilities
Increase brand credibility, authority, and recognition.
Obtain current market and competitive intelligence
Your finest blog posts, videos, and other content may all be used to promote your pest control business through social media. Additionally, you may discover the kind of content that appeal to your followers and direct your efforts accordingly. We typically recommend posting to each of your social media accounts with different types of content (posts, links, stories, blogs, etc.) at least two times every day.
Similar to your email marketing list, social media marketing serves as a great lead growth and management tool. It raises awareness of your brand and the services you offer, enabling customers to find you easily in the future when they need you most.
4. Create a Pest Control Blog
Due to how simple it is to find information on just about anything, modern consumers are now research-obsessed. Consumers use search to improve their lives, according to Google's study. They can feel less worried and more confident as a result.
With a pest control blog, you may simultaneously sate homeowners' thirst for knowledge and convert them into leads (or lifelong clients). Additionally, blogs can generate MASSIVE traffic for your website. Blogging can be a powerful form of low-cost pest control advertising, too. By consistently providing valuable and relevant content, a business can establish itself as an industry leader.
Blogging and content topics could include:
Pest Identification Glossary
Do-it-yourself tips for homeowners
Recent events and stories that have an impact on local homeowners
Identification guide for bug bites
Instructional and educational videos
To reach as many individuals as possible, you should diversify your content marketing strategy. If someone doesn't have the time to read an eBook, they could have time to view a little movie instead, for instance. Ideally, you should be posting to your blog on a weekly or bi-weekly schedule.
5. Develop SEO
The activities involved with improving a web page's search engine ranking in order to increase online visibility is what marketers call search engine optimization (SEO). Search Engine Optimization (SEO) provides more opportunities to turn potential clients into actual ones. It increases visibility and drives more traffic to a business's website.
It is rather important considering 93% of all purchases begin with an online search, 47% of users visit one of the top three listings, and 97% of consumers utilize the internet to find local services. So, have you made your website crawlable by Google? You're not alone if you think that sounds like nonsense.
Simple SEO errors can make a website uncrawlable and can seriously hinder traffic to your website and keep you from ranking on Google's first page of results. Since 90% of users never go past the first page of the search results, if you're not on it, you might as well not even exist. Don't be scared to hire a specialist to evaluate your website and make a few minor adjustments because SEO optimization might be complicated.
6. Improve Local SEO
Because Google owns 92 percent of the global search engine market, it's essential to pay attention to local SEO to help boost online visibility. Local SEO also contributes to voice search visibility on apps like Siri and Alexa.
Alright, so…local SEO. What exactly is it? This particular SEO technique will cause you to appear for local searches in maps like Google's local pack (that group of the top three businesses on Google Maps listings). For instance:
A search query without local intent—one in which the user's location is unimportant—is "What's that scratching noise in my attic?"
In comparison, Google will deliver localized advertisements if a user entered the search term "squirrel removal near me" – because it has a local intent.
You need to work on your local SEO if you want to rank for local searches and get your business into the local pack (the map listings). This is possible by:
Improving your Google Business Profile
Connecting each of your companies to a Google Business Profile
Making sure your name, address, and phone number are consistent online (including directory listings)
Having lots of reviews with 4 and 5 stars
Local SEO also impacts your visibility on voice assistants like Google Home, Amazon Alexa, and Apple's Siri. Each of these apps source their data from online directories to help potential customers find local businesses for the services they need. Whenever someone asks, "Hey Alexa, who is the best pest control business near me?", you want Local SEO in your corner to help suggest your business.
7. Implement PPC Advertising
Historically, the majority of businesses spend money on print advertisements. Typically, the same thing happens: pest control leaflets or postcards are slipped into someone's mailbox or fastened to their door.
Pay Per Click (PPC) advertising is cost-effective because businesses only pay when consumers get to their website. PPC advertising uses demographics and personal interests based on internet browsing history and shopping behavior to target particular audiences.
The first three to four results that appear when someone searches on Google are frequently adverts from Google AdWords. PPC essentially serves as a method of ensuring that the clients you want see your name first when they search for the pest control services you offer — you quickly receive the right calls from the right leads. It is a very scalable and cost-effective pest control marketing strategy.
PPC advertisements are advised by us because:
PPC advertising can be started and stopped whenever you choose.
PPC campaign budgets are adjustable, enabling you to change your ad spend as you see fit.
PPC advertisements bring in targeted visitors with a strong intent to buy pest control services.
PPC advertisements are timely, enabling you to run them on any days and at all times of the week, even on weekends and public holidays.
PPC advertisements are extremely targeted, enabling you to display your adverts for the highest-converting keywords in your sector.
Popular social media sites like Twitter, Facebook, and Instagram have also become a pay-to-play ecosystem for businesses. Organic reach is still achievable, but it takes a lot more labor intensive effort to achieve than it did a few years ago. You might want to consider purchasing online pest control advertisements within these spaces. Although the learning curve can be challenging, social media PPC ads offer some of the better returns of any advertising tactic.
8. Optimize GMB Page
It's no secret that Google has become increasingly prevalent in our daily lives as the years pass and our reliance on the internet only seems to grow. Examples include its video search engine YouTube, its voice helper Google Assistant, and even just a straightforward Chrome search on your phone. Google My Business, however, is the most crucial Google offering for pest control businesses.
The Google Local Pack, often known as the Google Local Finder, may include Google My Business.
The group of company listings known as the Local Pack can be found in search results below the map. This appears following a user's local-intent Google search. The top three profiles are initially displayed, but you can expand to see more and explore additional listings on Google Maps.
For instance, if I type "pest control, NYC," The following will appear: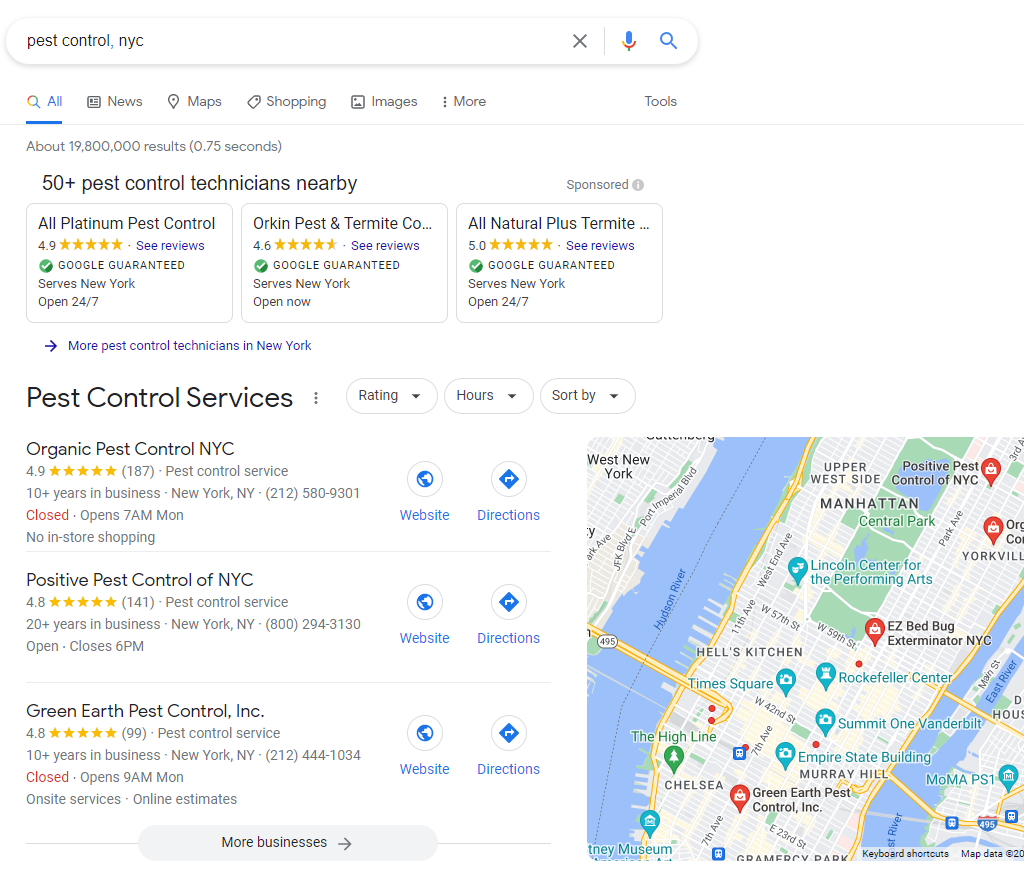 When pest control businesses properly optimize their Google My Business (GMB) page, property managers and homeowners can:
See where you are located
Locate your contact information instantly.
View your opening times
Review testimonials left by other customers
Book your services.
View images of your brand, your team, and your previous work examples.
Check out your offers, blog posts, and other content
To optimize your Google My Business page, thoroughly fill and complete the following:
Select the categories of your business
Complete your business description
Fill out your operating hours
Add the "booking button" feature if you provide online booking.
Publish posts weekly
Add photos of your business
List your available specials and discounts
Answer questions that are frequently asked and post responses
Respond to reviews as quickly as possible
Simply put, through Google My Business pages, businesses can increase visibility. GMB pages allow for online reviews and can show physical addresses on maps and Google local pack listings.
9. Consider Adopting a Strong Branding Mindset
Put simply, how do you want to be seen? Consumers consider a company's reputation when making their decisions. A strong brand mindset provides potential consumers with more than a description of services. It also distinguishes a business's guiding principles, core beliefs and values, each of which can set a business apart.
We'd bet that the competition is fierce because there are undoubtedly several pest control businesses in your service region. Your customers will remember you thanks to branding. Therefore, having a strong brand can help clients see you as one of, if not their best, options. When you work on a strong branding plan, you make your business identifiable and thus simple to recall when clients think of a service provider they can get in touch with right away.
Another reason branding is important is that the most crucial factor between a business and its clients is probably trust. But as we all know, building trust takes time, therefore it's critical to implement a successful plan that will inspire customers to confidently invest in your pest control business.
Consider the fact that they are allowing you, a complete stranger (at least to new clients), into their house and putting their family's safety in your hands.
If you were your customers, which company would you pick—one that doesn't take much interest in its image, has a well-maintained and modern website, and has gathered a ton of positive testimonials and reviews, or one with a generic name and a shady-looking logo?
You can show potential clients that they can trust you to execute the job successfully and keep them safe by developing a strong, credible, and relatable brand.
10. Monitor Online Presence
Keeping tabs on its online presence ensures that a brand retains the position that it seeks to present. For instance, 85 percent of consumers trust online reviews. By monitoring such things, a business can use the information to make changes or reinforce sound policies that are working.
How exactly do you monitor your online presence? First off, using social media is a great way to interact with your current and potential customers. If anyone has a question to ask or feedback to provide, they can easily do so on social media. The existence of your pest control business allows you to swiftly respond in these instances.
The second way to monitor your online presence is to use Google Alerts. This handy tool allows your to see when new results for a subject appear in Google Search, and you can sign up to get emails when they appear as well. You may learn about news, items, or mentions of your brand name, for instance. You can monitor your competitor's brand name, or other industry keywords like "NPMA" or "PestWorld".
11. Create Engaging Infographics
Infographics can have an engaging effect that words alone cannot. With the use of visual data, charts, and statistics, they can act as a potent tool for helping people quickly understand information. Information may be made into images that are memorable, attention-grabbing, and even compelling with the right use of color, proportion, and negative space. For instance, you could create an infographic with quick facts about the 5 most common household insects. Another example is an infographic that explains the common places insects can be found living inside a home.
In short, pest control businesses stand to gain authority and credibility by using graphs, tables and illustrations are able to communicate complex data in easy-to-understand and attention-catching ways.
12. Create Online Videos
Household pests are a big concern for homeowners. They frequently require the assistance of a pest control specialist to get rid of an infestation and stop it from happening again. There is competition in the pest control industry, and some pest treatment services are more prosperous than others. Success mostly depends on the kinds of marketing efforts businesses make to be noticed. To do this, video marketing for pest treatment businesses has grown to be a crucial tactic.
Using video content is one of many pest control marketing ideas that often yields favorable results. Videos are more engaging and dynamic than text or images and have the potential to bring to life a brand's skillset, ethos, and personality. Plus, the statistics clearly demonstrate the effectiveness of video marketing. Customers are more receptive to it and video typically reaches a larger audience. The following are some of the most astounding figures that support video marketing:
Compared to organic text results, videos have a 50 times higher chance of achieving organic page ranks on Google.
If a website has a video on it, it has a 50 times higher chance of appearing on the first page of search engine results.
Organic plain text results have a click-through rate that is 41% lower than videos.
A video on your page will encourage visitors to stay longer.
Roughly 20% of visitors will stick around to read a complete page's worth of text, yet 80% of users will do the same for an entire video.
In summary, we recommend that your businesses make engaging and entertaining videos that engage viewers and turn leads into customers if you want to gain from video marketing.
13. Get Lots of Reviews
Online reviews have always been a strong selling point for consumers. It's one thing for a business to say the right things, but it's quite another to hear them from clients. Including a selection of top reviews on your website makes good business sense.
In fact, 90 percent of people read online reviews before visiting a business, and 88 percent of consumers trust online reviews as much as personal recommendations. If you don't have a strategy to generate reviews, you're in danger. Additionally, Google's search results take into account the number of reviews and average rating you have received.
You should start by requesting more internet reviews if you want more of them. According to my observations, one of the main reasons pest treatment businesses don't have many reviews on Google or Facebook is that they don't ask for them. At the end of the day, one of the most important factors in Google Local search rankings is review quality and quantity. Your website's rating may increase if it receives a lot of positive comments, which will help you stand out from the competitors.
14. Merge Pest Control Marketing Strategies
There are so many tremendous ways to use the internet to help sell a brand, but let's not eschew marketing plans as they existed before the web exploded. Running print advertisements, applying graphics to work vehicles and generally being visible in the community will help the brand. Fielding a softball team might not score a bunch of accounts on game day, but getting the brand name out there, to be remembered when pest control issues arise, is tantamount to strong pest control advertising.
15. Make Yourself Available
A strong pest control marketing campaign includes features that make it easy for potential clients to communicate with company representatives. These could include a chatbox on the website, an email address, use of social media or scores of other methods. It is important to ensure a quick response when people take the time to reach out in an unsolicited manner.
Strong marketing relies on creative design, technology and strategy. Proecho Solutions offers the best in experience, quality and performance. Contact us for all of your pest control marketing agency needs and let our team help make your vision a reality.