Common Web Design Mistakes To Avoid & Other Helpful SEO Advice
SEO is crucial for promoting and growing your brand. This is because only the top ranking sites on search engines get the most clicks. Using SEO enables you to boost your website's ranking in Google's Search Engine Results Pages (SERPs) and stay at the top.
However, SEO is no mean feat, and even experts can make mistakes. While designing your website, you must be aware of the most common mistakes that can happen, how they can affect your SEO, and how to avoid them.
Otherwise, since the first five sites take about 67% of site clicks, these mistakes can cost you dearly. To help you avoid such costly mistakes, we will take you through the six most common web design mistakes that can hurt your SEO and how to correct them in time.

1. YOU FORGOT TO MAKE YOUR PAGE ACCESSIBLE
A study done by the Search Engine Journal reports that site accessibility and indexation take up about 21% of SEO mistakes, making accessibility a significant SEO error that many people make out there. This is the number one web design mistake that can impact your SEO.
To create an all-inclusive content that accommodates every type of reader, you should prioritize features such as alt text and omit other features like iframes.
To fix this problem, include alt text in your images so the visually impaired reader or visitor can decipher the content depicted by pictures. Put accuracy first, then keyword density.
Also, be sure to remove any iframes on your website as they can negatively impact your page's overall speed, and they also don't contribute much to your SEO objectives. Finally, get rid of any flash elements on your pages, as well.
When adding alt text to your images, check out these helpful insights from the Accessibility and Usability department at Penn State.

2. REMOVE THE 'NOINDEX' TAG
A 'noindex tag on robots.txt prevents the search engines from indexing your page. Therefore, you can invest heavily in keyword research and SEO, but unfortunately, you won't rank anywhere near the top of the SERPs.
Failure to remove the noindex tag from your site is among the most common SEO mistakes, accounting for about 4.68%. Sometimes it may be necessary to omit some of your pages out of organic search, but you shouldn't keep all of it out.
To fix this particular problem, Check for the noindex tag on the robots.txt for each of your pages. Remove it if you want to achieve better SERPs.

3. INSUFFICIENT CONTENT
Third on the list of web design mistakes is insufficient content. Gone are the days when website content used to be shorter. These days, most websites have a minimum of 1000 words, and the trend keeps changing. Of course, you don't have to make every
SEO-oriented page long. However, if you want to see better results from your site, investing about 6 hours on your content, and you can achieve about 25% success.
Experts recommend giving Google or similar search engines a minimum of 300-500 words to work with. However, longer content like 1000+ words is ideal. In a recent study conducted by SERPIQ, the first SERP generally contains a minimum of 2,416 words, with the tenth having about 2,032.
This is not to say you should strain to attain the required word count. You only need to ensure the content is long enough to cover and address the searcher's intent and topic. Suppose you can achieve that with 300 words, well and good. But if it requires 2,500, by all means, invest the time and attention needed to accomplish an in-depth resource.
To fix the problem of insufficient content, go over the original article to see if there's something you missed or relevant points you omitted and try to churn at least 300 words out of it.
Look for any helpful resources relevant to the topic and flesh them out. You can also go over your competitor's site and see what they've created out of the same topic, then work on creating a better piece to outshine them.
Go a notch higher by creating longer content in the future and publish them regularly. If you're no expert in content creation, consider outsourcing or contracting the work to SEO writers. This will help you meet some of Google's required standards which are expertise, authority, and trust.

4. YOUR HTTP STATUS CODE IS PREVENTING YOUR PAGES FROM CRAWLING
A server status code 4xx or 5xx (in which x's represents numerals) can keep search engines from crawling correctly on your pages, leading to an SEO approach that doesn't meet the cut. These web design mistakes typically happen when you have broken server links. It can adversely affect your Google ranking since the search engine has a fixed crawl budget for each site and wouldn't waste it on sites that tend to send broken links.
To fix it, use an SEO tool to remove any broken links with 4xx or 5xx HTTP status codes. If this is beyond you, enlist the service of an expert.

5. YOUR ACCELERATED MOBILE PAGES HAVE ISSUES
Accelerated Mobile Pages (AMP) have played a crucial role in web design and SEO since 2015.
To help prevent web design mistakes, this tool helps accelerate the loading time of pages on mobile devices, enabling pages to be more user-friendly. Studies have shown that AMP can significantly improve your page's ranking on SERPs.
However, incorporating AMP with Javascript or CSS stylesheets can cause Google to index your page ineffectively
Solution: Don't use Javascript code or CSS stylesheets together with AMP since they're not compatible. Instead, consider using AMP independently on other pages. Also, ensure you remove any expired tags in the AMP document.

6. IMPROPERLY OPTIMIZED META-TAGS
Meta tags are essential texts within a webpage that explains what the contents of that page are all about to Google and other search engines. This helps the search engine decipher what the page is all about to give it proper indexing.
If you're not providing meta tags in your content or doing it the wrong way, you're treading on a dangerous SEO path.
So retrace your steps and get back on track, ensure your meta title has a maximum of 11 words, and let each meta description have between 150–180 characters. Include the focus keywords into both the meta title, meta description, and naturally throughout the content. To create perfect SEO-optimized content, incorporate other relevant keywords throughout the text alongside the focus keyword.
Additional Considerations
Web design mistakes are common, and these mistakes have a way of ruining your site's SEO ranking. However, with proper guidance and support, you can avoid them even if it's your first time designing a website. The good news is that SEO is ever-evolving, so you can continue learning a new trick each day.
As search engine algorithms continue to change, so do SEO strategies. We hope these six web design tips and SEO mistakes can help you get started on the right foot.

How SEO Marketing Can Quickly Increase Traffic To Your Site
SEO usually takes time to show results, and it will often be weeks or even months before your site ranks well in the search engine result pages (SERPS). This might make some people reluctant to use SEO if they are looking for fast results, but good SEO practices can do more than just get your website ranking in Google. However, adopting a good SEO strategy can also help you to gain traffic in the short term even if your website is not yet ranking well. Here we take a look at how this is possible.

GLORIOUS GUEST BLOGGING
Guest blogging remains a cornerstone of a good SEO strategy. Guest blogging allows you to acquire backlinks, which act as recommendations, telling Google that a lot of people are talking about your site. These recommendations then encourage Google to rank your site well. But that's not the only benefit they can bring. 
Good quality backlinks on guest blogs are typically found in good quality content. This means content that is interesting and useful, occasionally compelling people to click on your link and, hey presto, you have organic traffic coming your way. Even better is that it's likely to be relevant traffic – provided your link ties in with the content it is found in.

WHAT'S THE CATCH?
The catch is that you need to create content that is genuinely good quality. Try to keep customer value management in mind at all times; offer something of value to the reader. Try and make sure your content helps them in some way by giving useful, actionable information and advice. Your content will also typically need to be posted on good-quality, relevant third-party sites that see a lot of traffic themselves. Such sites are likely to have high editorial standards meaning sub-standard content will be rejected.
There's another reason to focus on good quality content that's useful to people – it also encourages people to share it with their friends and family. Sharing will also help to get more traffic to your site in the short term, while also helping to build a natural backlink profile that benefits SEO in the long term.
USE SOCIAL MEDIA
Having social media accounts won't contribute directly to giving you a boost in the SERPS. They can, however, contribute to SEO indirectly, meaning they should still be incorporated with your SEO campaign. Using social media will also help to send you traffic in the short term. Sharing good quality content on social media means more people are going to see the content, meaning more people will click on your link and end up on your website.
Using social media also means more people are likely to share your content, which itself means more clicks and more traffic coming your way. Plus, of course, shared content means more quality backlinks that will help get your website noticed on Google in the long term.

FOCUS ON LONG-TAIL KEYWORDS
Long-tail keywords are basically keyword terms that contain several words. For example, a long-tail keyword would be something like "where can I buy discounted computer hardware," as opposed to something like "discounted hardware."
The main advantage of this is that long-tail keywords are less competitive – fewer businesses are targeting them, meaning it will take less time for you to rank. The downside is that fewer people are using long-tail keywords in their searches, meaning less traffic will be coming your way. However, using the right content strategy, you can have several long-tail keywords helping to bring traffic to your site.
Using long-tail keywords will also help you to rank for standard keywords in the long term. In the example given above, the long-tail keyword also contains the term "discounted hardware," meaning you could rank for that term also in the long term. Try and incorporate both short-term and long-term strategies in your keyword research to help you make the best of both worlds.
THE BOTTOM LINE
If you're looking for quick-fix SEO that gets your site ranking in the SERPS quickly – you're going to be disappointed (depending on your definition of quick). This does not mean, however, that good SEO practices can't start sending traffic your way even if your website is still ranking on page 50 on Google. Indeed, use the right strategies and focus on quality, and you can have good quality traffic coming to your site quicker than you might expect.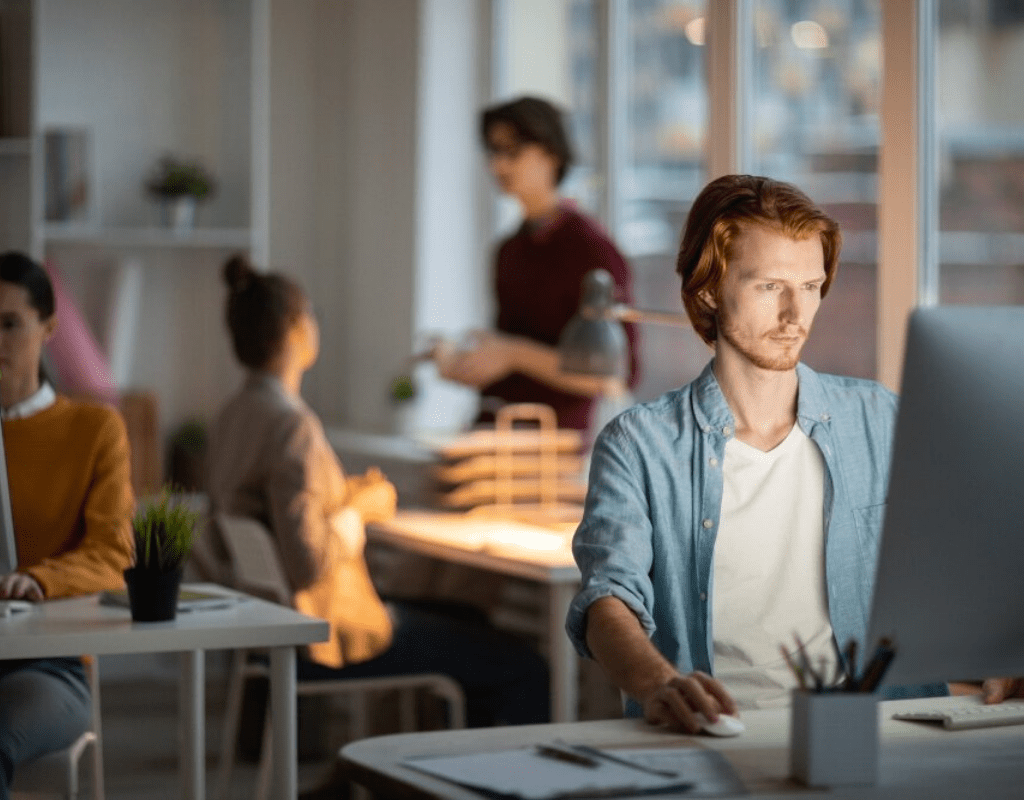 4 Tips For Creating An Impressive Website
The following four tips will put you well on your way to a website that has a good chance to attract and hold visitors. You have about five seconds or less to entice a visitor to decide to navigate your website or move on to another. Here are the top four, and a few more, things you need to achieve this as suggested by small business website design companies like Proecho Solutions.

STRUCTURE CONTENT USING A LOGICAL VISUAL HIERARCHY
The visual hierarchy of your home or landing page is about the color, contrast, and size of the visual elements on the page. It directs the eye to a particular order through relative prominence. Research shows that every website page has a visual hierarchy, but only if it is deliberately used to attract and hold visitor's attention does it contribute to a good website.
You want to grab the visitor's attention to the important elements first. The layout will put important things at the top of the page whether they are headlines, graphics, icons, or videos. Contrast and white spaces make it easier for the visitor to see each element.

PLACE KEYWORDS HIGH ON THE HOME PAGE
The first thing a visitor wants to know is if they can get what they want from the website they landed on. To achieve this, your home page needs a descriptive headline at the top of the page that informs the visitor within the first five seconds that they are in the right place.
You may be tempted to write a clever phrase or something humorous at this point but, it's better to give a clear and simple presentation than to try to catch visitor's attention with something clever. Most people don't want to waste time wading through text to get answers to their questions. A crystal-clear message is the best way to hold the visitor's attention. For example, if you are selling organic cotton baby clothes, visitors need to know that immediately. A good headline would be Comfortable, Organic Cotton, and Affordable Baby Clothes.

USE HIGH-QUALITY IMAGERY
Beautiful photographs, especially of human faces will communicate your objectives as well or better than text. Photos of faces can guide the visitor's attention.
One famous example found through a study is that if the photo of a baby is looking at the camera, visitors look at the baby. If the baby is looking at the headline, people look at the headline. In other words, the line of sight in a photo of a human face can guide the visitor to a service page or call-to-action. Another effective way to guide attention is with arrows.
Memes are one way to attract visitors especially if they are clever or funny. You can find programs online that teach you to make your own memes or offer free templates for professional-looking memes.
Make sure all the imagery you use is high resolution. Any photo taken with an old smartphone may not give the sharpness you want. However, you should avoid stock photos. People appreciate genuineness, and a few high-quality photos from your business will be more impressive than stock photos that they see on other websites in your industry. Luckily, there is plenty of photo and video editor software to help you make this happen.
SOME DOS AND DON'TS
Do put your social media links at the bottom of the page and not the top. Do put HOME on the left of the menu because that is where visitors expect to find it. Don't link your service page to your blog page. You want to keep visitors on your service page, and it is too easy to exit from a blog page. Do be careful linking to other sites. If your visitors go to that link, determine if it will help your business. Do use clear, professional SEO text with the right number of keywords to make Google put your site higher on the first page. Don't keyword stuff as this will not help with Google. Do use short paragraphs and avoid walls of text. Do put the call-to-action high on the page.