How Many Backlinks Does a Website Need?
While it's hard to quantify the effect of a single backlink on a single page, we can look at the correlation between the backlinks and the ranking of a group of pages. Based on a study by Ahrefs there is a clear trend between the number of referring domains to a page and its organic search traffic (see graph below).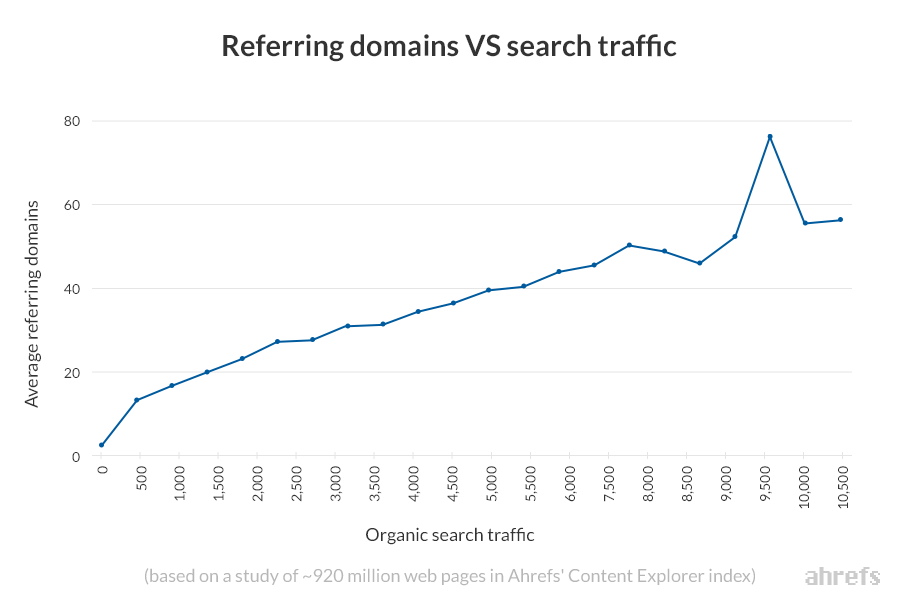 What is a referring domain?
A referring domain means a unique website linking to your page. "Unique" means a site that hasn't previously linked to your page, as opposed to a site that has already linked to your page before.
Why are referring domains important?
The referring domains act as a "vote of confidence" from another website. When Google crawls a site it trusts and sees a link to your site, it considers this as a vote that your site is trustworthy/popular. The more unique votes Google encounters, the more confident it is that users will find value from your page, thus improving your ranking in SERPs.

There are several factors that influence how effective each referring domain is:
How trusted is the referring domain?

Is the page that links to your page relevant to your industry / topic of the linked page?

Is the link "dofollow" or "nofollow"?  (Dofollow backlinks and nofollow backlinks are two ways of identifying a link and telling Google how to associate the website you are linking to your website. Dofollow links are a way to pass on authority to a website, while a nofollow link does not pass on link juice.)

Is the anchor text relevant to your page?
What is guest posting?
Guest Posting is the vehicle by which we optimize the 4 criteria:
The websites we choose to post on are filtered by a third party metric that measures the authority of the website

Since we write the article ourselves, we control the content and can ensure the article is highly relevant to the page we link to

A "nofollow" basically means here's another resource, but we're not giving it a vote of confidence, whereas "dofollow" means we are giving it a vote of confidence. We only post on sites that allow us to link to your page using a "dofollow" link.

Anchor text is the actual text of the link. If you wanted to rank a page for the search term "leather boots" a link with anchor text, "premium leather boots" would be more effective than a link with anchor text, "click here". Again, since we control the content, we can optimize this text to be highly relevant to your page.
Why are guest posts important?
Let's take a look at it from Google's perspective. When a website begins to gain more and more votes of confidence, the algorithm's thought process goes a little like this:
"Wow, this is great content, let's see how it compares to existing articles…Okay, it's better than most but there are a few that are similar quality. Let me look at the other metrics to determine how to order these. Ah, I see that these other articles have upvotes from other websites and have been around for a while and I know that our users are finding what they need in these existing articles because they're staying around long enough to read all of the content. I'll put the new one below these for now and reconsider its position if things change."
The links from guest posts help break this tie with your page winding up higher in the results. Even if the content on your page is much better than a competitor's page, the page with the better links will often win the exchange. The "quality" of content is subjective by nature and difficult for a human to compare accurately. It's even more difficult for an algorithm. This is evident if you've ever seen popular websites on the first few results of the SERP but not found what you're looking for in the articles and had to click on results at the bottom of the SERP to find what you're looking for. The big names won the top spots because they're more trusted, rather than because their content surpassed the others.
Final Thoughts
A final note on why guest posts are important — when we research the keywords or search terms we want to target with blog articles, we look for the terms with the highest traffic that we have a good chance of ranking for. We can see how many referring domains the competitors have and what quality those referring domains are. Knowing we will have a few referring domains shortly after article creation allows us to target search terms with higher traffic. Without referring domains we may only be able to confidently target search terms with 50 – 100 searches per month as opposed to terms with 500 – 2000+ searches per month.