Blue Ridge Floors
Marketing, Google Ads & SEO
Grew Rankings to #1 for 15+ Keywords 
+200% Total Inbound Leads / Calls
+245% Organic Traffic Growth 2019 – 2021
Reduced New Lead Acquisition Cost by 15% 
PROJECT BACKGROUND
Asheville's Hardwood Flooring Specialists
Blue Ridge Floors is a third-generation family-operated flooring store based in Asheville, N.C. that specializes in flooring product selection, design, installations, sanding and finishing, tile, and stairs.
Business Challenge: When we were approached by Blue Ridge Floors, a Google Algorithm update had caused their website rankings to drop considerably. All of a sudden, the phones stopped ringing and they weren't receiving nearly as much traffic as they had been. The problem was clear:
They were not ranking high enough to obtain quality traffic
They had a low visitor-to-lead conversion rate
The problem was their website. The calls to action were not clear, the user experience was confusing, the load time of the site was slow, they were buried in the search results, and the mobile experience was seriously broken.

Industry: Home Services
Category: Flooring Company
Company Size: 20+
Location: Asheville, NC, United States
PROJECT GOALS
Marketing & Business Objectives
We implemented a comprehensive blogging, content, and link-building strategy to help shore up losses in rankings. Over time, we implemented highly optimized Google Ads campaigns to increase leads and grow brand awareness - with the following results:
Google Search Ads and Organic Rankings for Driving Leads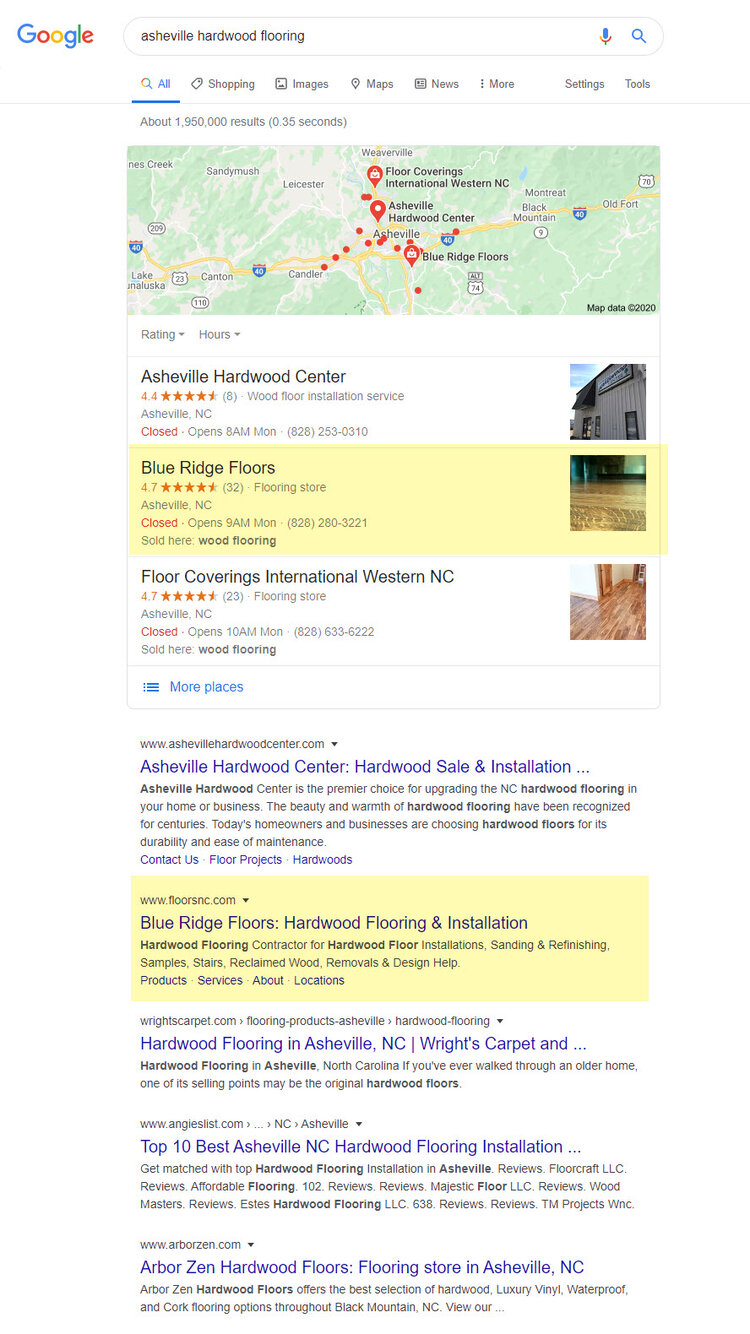 To drive more traffic to their website, Blue Ridge Floors needed a strategy for taking advantage of paid advertising channels: Google Search ads
By integrating target keywords and utilizing copy that resonated with their target audience, Proecho Solutions deployed Search ads to attract quality traffic generating 15% more leads in 2021.

 

When segmenting the target population, which comprised geographies, ages, vocations, and hobbies of the Blue Ridge Floors target audience, it was also vital to examine demographics and psychographics in order to maximize ROI. Blue Ridge Floors was well on its way to a successful SEM campaign thanks to this, as well as optimized content and a great design.
Get marketing solutions that help grow your business and save you time and money.
NOW THAT'S MARKETING THAT WORKS