Patton Avenue Pet Company
Google Search & Display Ads
5-to-1 Return on Ad Spend (ROAS) for 2021
Increased Online Revenue by 50% for 2021
Increased Retail Store Revenue by 14%
PROJECT BACKGROUND
Multi-Location Retail Pet Store with Online Shop
Patton Avenue Pet Company is a hollistic pet supply store with three locations in Asheville, NC. They offer nutritionally appropriate foods for dogs, cats, and small animals, and price themselves in the extensive research taken to provide healthy options for all pets. Since 2011, Patton Avenue Pet Company sells food, gear, treats, and toys both online and in-store.  
Business Challenge: Patton Avenue Pet Company lacked the time to learn the technical search skills required to fully optimize their inbound website traffic. 
Industry: Consumer Products
Category: Pet Food & Supplies
Company Size: 30+
Location: Asheville, NC, United States
PROJECT GOALS
Marketing & Business Objectives
After a Discovery & Strategic Planning Phase, Proecho Solutions collaborated with Patton Avenue Pet Company to better understand the current market and target audience. This led to optimized landing pages and more targeted Google Search and Display campaigns.
Google Search and Google Display Ads for Driving Sales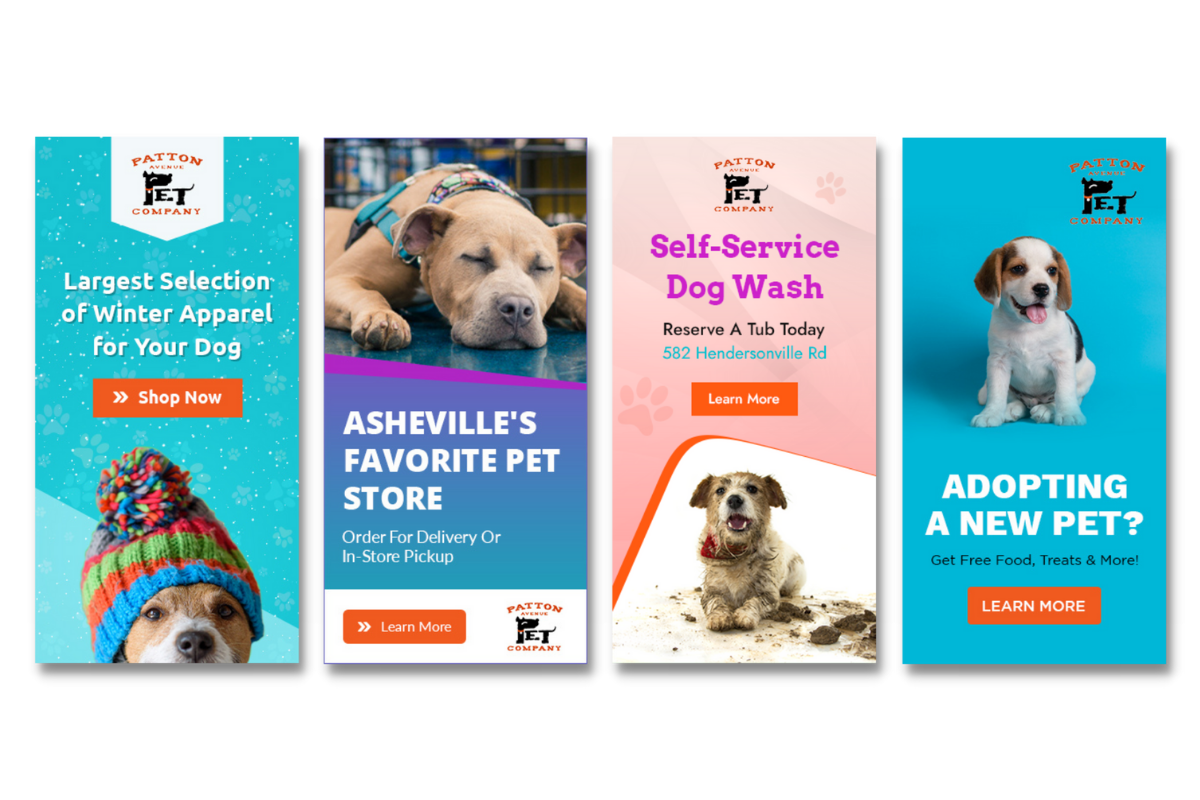 Patton Avenue Pet Company needed a strategy for using paid advertising channels to increase traffic to their website, specifically Google Display Ads and Google Search Ads
By integrating target keywords and utilizing copy that resonated with their target audience, Proecho Solutions deployed Search and Display ads to attract quality traffic generating over $120K in 2022, with a 5:1 Return on Ad Spend (ROAS)
Patton Avenue Pet Company also wanted to increase the amount of appointments for the Self-Wash dog washing stations at their Hendersonville Road location. When they started out, they had virtually no appointments booked. However, within 3 months of launching the ad campaigns, they were fully booked every single weekend.
They also wanted to promote free giveaway bags to people who adopt new pets. Using interest based targeting, eye-catching ads, and custom landing pages, we were able to increase pickups of new adoption gift bags by 33%.
When segmenting the target audience, it was also vital to examine demographics and physchographics, which included areas, ages, vocations, and interests of Patton Avenue Pet Company's target audience, in order to maximize ROI.
Get marketing solutions that help grow your business and save you time and money.
NOW THAT'S MARKETING THAT WORKS