5 Points to Consider for a Successful Earned Media Strategy
If you've ever posted about the shoes you just bought or retweeted a brand's hilarious meme, that is considered a form of earned media.
Although, people typically don't just randomly post about brands. Something has to happen to encourage them to share, such as a high-quality product or an extremely informative blog post, to give them reason enough to post.
Just as you can't completely control the earned media you receive from audiences, you also can't sit back and expect it to come to you. To perfect your earned media strategy, as with most aspects of marketing, you must put in a lot of effort.
What exactly is earned media?
Earned media refers to coverage or promotion of your brand obtained through natural means. It's a very effective form of content marketing, but it's also the most difficult to obtain.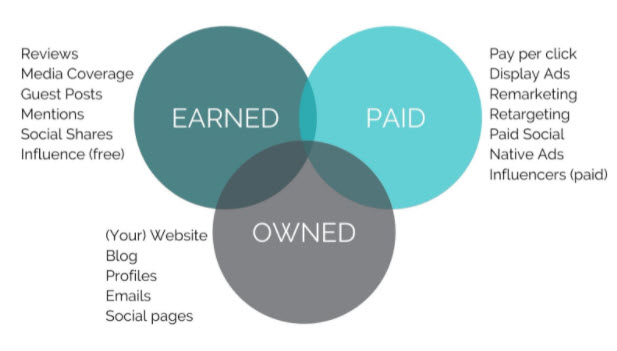 Earned media, owned media, and paid media are the three types of media. Paid media is anything you paid for, such as a magazine sponsored post, a social media ad, or an influencer's post. Owned media refers to content you've created or distribution channels you control. A blog post on your website, for example, a social media post from your account, or a newsletter. To differentiate the social media channels, some people add a fourth type of media, social media or shared media.
Earned media differs from the other two in that it is media that you do not and cannot control. Earned media includes a mention on Instagram when someone visits your shop, an unsolicited Yelp review, and even a reshare of your blog post.
What is the significance of earned media for brands?
Consumers rely on recommendations from friends and family, as well as online review sites and unpaid social media influencer posts. All of these are examples of earned media that can help your brand's reputation.
Earned media examples
Earned media comes in a variety of forms, and they all take time to develop. Many of these are the natural result of community building and a strong press strategy.
Review sites
Earned media from review sites includes feedback from sites such as Yelp, TripAdvisor, and Google My Business. Honest and positive feedback is media gold. According to a Brightlocal study on consumer review behavior, 87% of them read online reviews for local businesses and only 48% would consider using a business with fewer than four stars.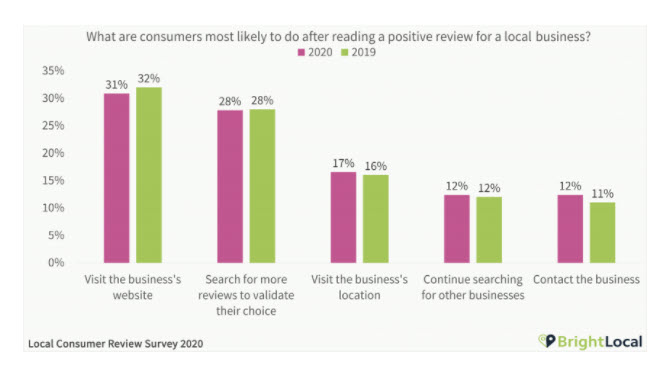 It is not enough to understand how consumers interact with reviews; it is also necessary to understand what they do after reading them. After reading a positive review of a local business, 31% go to the company's website, and 28% look for more reviews. The average consumer will read 10 reviews before deciding whether or not to trust a company.
As you can see, reviews play a significant role in a consumer's purchasing decision. If you want to stay on top of online reviews, you'll need an effective review management strategy.
Coverage in the media
You may believe that media coverage is a type of paid media, which is correct in some cases. Media coverage that your brand pays for and controls is referred to as advertising spots or sponsored articles.
Earned media is when you are mentioned or written about in the media without having to pay anyone. For example, your product may be featured in a gift guide, or your company may have done something noteworthy that was covered in a television segment.
This is where public relations work comes in. You can certainly do outreach with press releases, but you have no control over when or where coverage occurs.
Social Media Shoutouts
Social media shoutouts can occur in a variety of ways. The customer may have had such an amazing experience at your restaurant that they felt compelled to tell others about it. Or your product met a consumer need, and they want to tell others about it. Or maybe you posted something amazing on Instagram that had to be shared with others.
You have no control over what people post on social media, but you can certainly influence them. You have control over how your brand behaves, how good your product is, and how interesting your content is. The more you do these things on a regular basis, the more likely it is that you will receive social media shoutouts.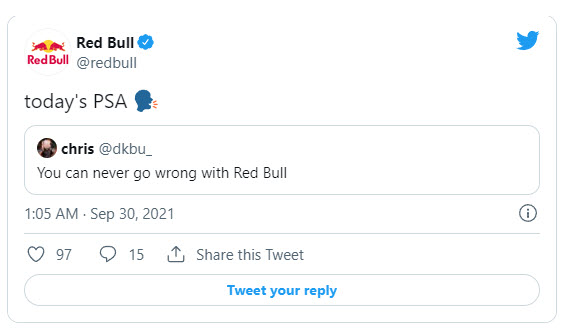 Brands such as Red Bull retweet fan comments and may also repost them to other networks in order to capitalize on brand shoutouts. One way to encourage more of these shoutouts is to incorporate user-generated content into your content marketing strategy. 
Search engine results
Earned media is influenced by search engine optimization (SEO). Search engines take notice every time you add new content to your website. If someone's search query matches one of your recent blog posts, you might appear on the first page of results. Paid media, such as paid search advertising, can be used to guarantee placement, but SEO tactics allow you to work organically to obtain 'free' placement if you execute them successfully.
There are numerous factors that go into a fully developed SEO strategy, ranging from keyword research to technical best practices. Some important foundational elements are creating high quality and useful content that meets your audience's needs. Try to align with your marketing personas' search intent and interests to create findable and share-worthy content for your audience. This approach will provide more value than simply pursuing the most popular keywords, which may or may not be related to people's reasons for purchasing your product or service.
5 Points to Consider for a Successful Earned Media Strategy
Now that you've learned about some of the different types of earned media, here are some pointers to help you get more of it. Many of these tips cross platforms and channels, allowing you to boost various types of earned media with just one of these tactics.
Establish and maintain media relationships
Do you think of talking to journalists and members of the media only when you need something done?
Media relationships are similar to any other type of relationship in that they must be nurtured and built on trust.
A journalist may not require your product right away, but if you've established a working relationship, they may remember you when an opportunity arises.
This relationship-building does not have to be done solely via email.
Social media and public relations complement each other because they allow both brands and journalists to keep track of what the other is up to.
Make content that is both interesting and engaging.
Content worth engaging with and sharing is an important component of content marketing success. If it strikes a nerve with the audience, they will feel compelled to share it. Earned media includes retweets and reshares, as well as accounts that share content on their own.
Domo's infographic, for example, was so intriguing that Sprout simply had to share it with their audience. It counts as earned media for Domo in this case.
Use all of your distribution channels.
Are you distributing your content in every possible way? Don't rely solely on social media as a means of content distribution. Distribute your content through your newsletter and encourage your employees to share it.
Use an employee advocacy strategy to send your best content to people who are already big fans of your company to make this easier for you. Consider your employees to be another type of brand ambassador and a way for your customers to connect with your company on a personal level.
Create and demonstrate expertise.
What is one strategy for getting your brand recognized as an expert in articles? Showcase your industry knowledge with blog posts, social media posts, and other types of owned content. You'll naturally become a go-to source for your industry as you establish yourself as an expert.
Harvard Business Review, for example, is well known in management circles for publishing interesting and relevant articles on how to improve business management. This trust did not emerge overnight. It was built over years of producing consistently high-quality content.
Be exceptional to your customers.
According to Statista, 59% of customers view brands that respond to questions or complaints on social media favorably. While social customer care has been around for a while, it is still an area where few brands excel. So, when it does happen, those fantastic social shoutouts occur.
This isn't just limited to social media. Being great with your customers should occur in person, via email, and in any other way you interact with them. People notice when you go above and beyond for your entire customer base, not just the influencers. Chewy receives shoutouts like this on a regular basis because their customer experience team takes care of their customers in unique and personalized ways.
How to Monitor and Measure Earned Media
You may be wondering how to tell if an earned media strategy is effective. Depending on the direction of your strategy, your tracking method will differ. You can track earned media data on social media by keeping an eye on your brand mentions and keywords.
Earned media includes every retweet, repost, and reshare. Keep an eye on your brand's share of voice to see where you stand in your industry. Are you receiving more attention than your competitors? If you're creating content for your website, look at your referrals to see if you're getting more social media referrals or being ranked higher in search results.
Begin Developing Your Earned Media Strategy.
Earned media is one of those types that every marketer desires but does not always receive. This is because the strategies you employ do not guarantee success; rather, they increase your chances of success. Earned media, on the other hand, is some of the most influential media available. Every brand wants more earned media, from review sites to social media shoutouts.
Starting with influencer marketing is one of the simplest ways to get started. You can start a paid influencer strategy to build relationships with brand advocates, which will lead to more earned media.